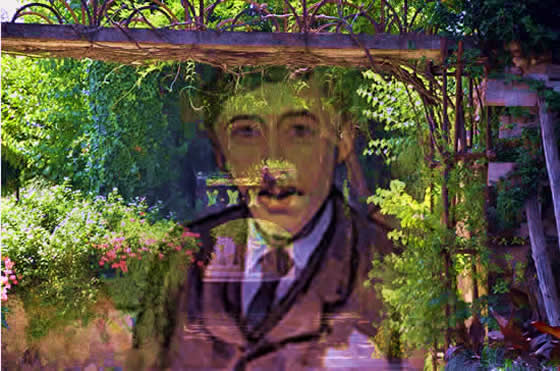 Marion poured Earl Grey tea from a bone china pot into a matching cup and added a small spoon of sugar and a slice of lemon. A two tier silver cake stand had triangular cut sandwiches with the crusts cut off on the bottom and slices of handmade panettone cake on top. It was a perfect mid-morning selection with lunch planned for one o'clock.
She looked out at one of her favourite views of anywhere on Earth, the Amalfi coast of southern Italy as seen from the Terrazzo dell'lnfinito at the Villa Cimbrone. This table and chair were a long way from the dining room, but it had been placed there at her request and the staff had been happy to bring the refreshments to her.
The view was exactly as she remembered it from the summer she spent there in the nineteen-thirties. The Villa was not. Then it had been the private home of an expatriate English Lord. Now it was a hotel for those who could afford its exclusive facilities. Of course, the guests of the third Baron Grimthorpe and his sister, Lucille, who tended the gardens, had been rich people, too, but staying at a house as a friend of the owner did feel a bit different to paying to stay at a hotel.
It was still a place where the famous came for peace and exclusivity, of course. Pierce Brosnan had strolled by just before the tea arrived and wished her a good morning. Somewhere in the gardens David Beckham and his wife were strolling, and the American actor Woody Harrelson was also a guest, though Marion didn't recall any of his films and really didn't recognise him when he was pointed out to her in the dining room.
Brosnan seemed nice, but apart from him, she rather missed the friends she knew in the nineteen thirties. As she watched the contrails of a jet plane leave an unmistakeable mark on the otherwise flawless blue sky she sipped the Earl Grey and remembered that the lemon slices back then on her first visit came from fruit grown in a little grove beyond the grotto garden. They might still do. She made a promise to herself to go and look after she had finished her tea. If it was still there, she thought she would find it by the smell alone.
The first time she had found the lemon grove it was in company with her friend, known to the literary world as EM Forster, known to most of his personal friends as Morgan, but to her alone, as far as she knew, as Edward. The walk had been pleasant both because of the splendour of the gardens and the entertaining conversation of her companion. She remembered him telling her an anecdote about his journey to Ravello that set her laughing. The misadventures of travel started at Waterloo station in London when he found his reservation on the boat-train to Calais had been made out in the name of Emma Foster. It took twenty minutes and a copy of his most recent novel purchased at the WH Smiths stall on the station to iron out the error.
"I have the same problem on your behalf," Marion told him. "I don't know how often I have been reading one of your books and somebody has looked at the cover and said 'Who is Em Foster?' I always automatically get ready to say 'Forster' to correct them."
"My name and my fame are safe in your hands, dear lady," he said graciously.
"Not just me," she assured him. "I know many people who have read your books."
Not so many, she thought, as had seen the film versions, but she couldn't tell him that. It was one of the things she had learnt to remember when visiting the past. But his books were in WH Smiths station kiosks and that was good enough for now.
She had enjoyed that walk with Edward. So had he, it seemed, for he made an arrangement for the next evening. After that it simply became an unspoken agreement that they would walk together in the twilight before dinner. They enjoyed the scents of citrus fruits growing and of the roses, including the unique 'Rose of Ravello' in the formal gardens, and the breeze coming over the Tyrrhenian Sea. They talked about everything from literature to Hollywood films, to the disturbing rise of fascism in Europe and occasionally to the reason why Edward was one of the few unmarried men staying at Villa Cimbrone.
The walks did her good. She stopped being known as the 'Invalid Lady' and started to be known as 'Mr Forster's Lady', which was far better.
The end of the summer, when the house party was breaking up, was almost heart-breaking. Their last walk had been on a perfect evening with all the sights, sounds and scents Marion loved seeming bigger and headier than ever before, as if ensuring they would be remembered in days to come.
"The world is changing quickly," Edward had remarked. "Who knows if any of us will be able to return to such a place as this, or if we shall meet again at all?"
It was certain that English house parties at the Villa would not happen again the way they had for the past decade. By next year the fascist movement in Italy would make visiting the country too unpalatable for most and too dangerous for the likes of Mr Forster. By the time the Second World War was over and Mussolini's shadow had been lifted from Italy it would be difficult to recapture the same spirit they had enjoyed this summer. The world, and the people who lived in it, would have been changed too much by it all. Marion knew that as a fact. Edward knew it as a writer's instinct for the all too ominous future.
"We'll visit you in England," she promised as a distraction from those dark thoughts. "Kristoph and I will both visit."
"It will be a pleasure to receive you and your husband in my own home," Edward promised in return.
Kristoph had made sure they kept their side of the promise. In September of 1938 and at Christmas 1939 he brought Marion to Edward's then London home in Brunswick Square, within walking distance of the British Museum which they visited together. Several times during the dark days of the war they met at Edward's later home in suburban Chiswick, a well-appointed apartment, very suitable for a bachelor who sometimes had friends to stay. They brought their own Earl Grey and lemons because imported goods like those were scarce. Kristoph never explained where he got them from, only that he had impeccable contacts.
After the war, with the blackout curtains taken down and the crisscrossed tape removed from the windows the air seemed fresher and the skies brighter, but there was still rationing. As well as tea, Marion brought baskets of fruit that was hard to come by in London, convinced that her friend who had been instrumental in improving her health during that summer on the Amalfi coast needed the vitamins for himself, now.
They talked fondly, and a little sadly, about the Villa Cimbrone. Of course, the Beckett family had to abandon their beautiful Ravello home. Such places were officially confiscated by the fascists even before it became impossible for English people to live there.
"I have heard that the gardens are quite overgrown and the house neglected," Edward had said. He and Marion mourned for it together. Both knew that people had suffered terribly in Italy and all over the world, and that grieved them as it properly should, but the loss of that beautiful retreat was a cause of a special kind of sadness.
"I don't think I want to see it that way," Marion said. "I would rather remember it as it was that summer. If I saw it all ruined it would spoil the memory."
Edward agreed with her. They knew they would never again walk together in the Villa Cimbrone garden.
There was something else that Marion thought would spoil the memory, and that was the passage of time for her friend. Kristoph used a certain amount of Power of Suggestion every time they visited to disguise the fact that a year or more may have passed in Chiswick while they had been back on Gallifrey for only a week. Edward didn't notice that Marion had not aged since that summer of 1937.
She noticed that he had aged a lot. He was nearly sixty when they first met, though still a vigorous man. Ten years later he took things slower.
By the beginning of the nineteen sixties he was ready to admit that the bachelor life was too much for him. Marion and Kristoph visited him in that last decade at the Coventry home of a retired couple who had been lifelong friends of his, and who now provided the comfort and companionship he needed.
Finally, on a June day in 1970, they were among the small, private group of people who attended the Canley Garden Cemetery and Crematorium, where by Edward's own request, no religious ceremony took place before his cremation. Afterwards, as the rest of that small group went back to the house to witness the ashes being scattered in the rose garden, Kristoph brought Marion quietly away.
In the early twenty-first century, nearly fifty years after the death of Edward Morgan Forster who had visited there in the summer of 1937, the new owners of Villa Cimbrone had lovingly restored the house and gardens to their pre-war glory. Marion had never had to see it decayed and neglected. She was glad of that.
She finished her tea and left her book while she took a walk in the gardens, determined after her long reverie to see if the lemon grove was still there. How long did lemon trees last, anyway?
Unfortunately, she couldn't get to that part of the garden. A team of 'event constructors' were assembling a mock Palladian folly out of balsa wood and quick drying paint for a wedding that was taking place tomorrow. There had been talk about it at breakfast. The bride and groom, a former fashion model and a New York financier, were staying at Villa Cimbrone while their guests were at the Villa Rufolo a little way along the breath-taking coast. Marion wondered why they needed this stage set when the gardens were full of real follies that looked much nicer. But people who could afford a grand wedding here could afford a temporary change to the scenery. She turned and walked away from the noise and bustle of wedding preparations and came back to the peace of the Terrazzo dell'lnfinito where she could sit and look at the changeless sea view and remember the glorious summer of 1937 and the beautiful friendship of that time that she treasured in her heart every time she smelt Earl Grey and freshly sliced lemon.
Only Connect…..