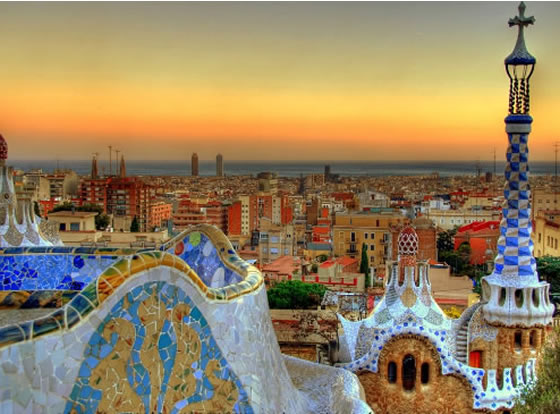 Kristoph's TARDIS materialised in the narrow street disguised as a wide pillar decorated in the kind of ceramic mosaic known as trencadís. Presently Marion stepped out dressed in a light cotton frock and a cardigan. Kristoph was similarly dressed for a pleasant late spring day in a casual open necked shirt.
They crossed the road and walked through a pair of ornamental wrought iron gates flanked by what looked very much like a pair of gingerbread houses straight from a fairy tale. The curved walls of reddish-yellow with rounded roofs, one of them topped off by a slender spire decorated with that trencadís mosaic that the TARDIS had chosen as an incongruous disguise completed the effect of a huge frosted confectionary.
Through the gates was a wide, sweeping stairway of white stone with a ceramic mosaic salamander waiting near the top.
Marion laughed and looked up at the sky, confirming that it was the pale blue of Earth.
Of course it was Earth. They were in Barcelona, capital of Catalonia, that region of Spain that fiercely aspired to independence and which was the centre of an architectural style fully realised in Parc Güell, the place that Marion and Kristoph had crossed light years to visit for the day.
"All the amazing sights I've seen on other worlds and there is something as fantastic as this right here on Earth. I feel a little bit proud of my species when I see something like this."
"Well, you have a right to be proud of a human like Antonio Gaudi who envisaged this place. His designs are centuries ahead of his time in Human terms. The only architecture that possibly compares is that of the ancient Cordoan people of the Scarlett System, and their civilization died out before Humans had any extra terrestrial contact."
Marion would have replied, but climbing the steps had left her breathless. She gripped the rail near the tail of the salamander and breathed hard.
"I'm all right now," she told Kristoph as he came to take her arm.
"I wonder if a day out with so much walking involved was a good idea," Kristoph admitted as they climbed the second flight of steps to emerge in a wide plaza where hawkers were setting out their wares on linen cloths and buskers tuning their instruments as the first tourists of the day crossed the space to reach the benches around the edge with their views across Barcelona to the azure blue sea.
"I will be all right," Marion promised. "If we take it slowly and rest often."
"I thought a day in the sun would do you good," Kristoph admitted. "The Southern Plain is buried under a blanket of snow and you've been in the house for weeks. You have been looking a little pale, my dear."
"Yes, I think I needed some sunshine," Marion agreed. "I think I need a place like Parc Güell, too. I don't walk very much, except in the confines of the formal gardens. I need more exercise."
"You may be right. But don't overdo it. If you feel weary we will rest."
"I want to see as much as I can of the park, all the same. We MUST see the Calvary monument, and Gaudi's house."
"I didn't know you were such a fan of his work," Kristoph remarked.
"How could anyone not love an architect who thought a stairway needed a mosaic salamander and who paid as much attention to the design of a bench as he did to a whole house."
"Indeed," Kristoph agreed. He took Marion's arm as they walked on again, up another slope and along a path beside walls that looked as if they were grown like trees or accreted like coral or stalagmites. They were as organic looking as that. Smooth surfaces and angles were banished as nature and architecture were melded together. The tops of these walls looked just like tree tops and holes deliberately made to look like nooks in a tree trunk actually did provide nesting sites for birds.
"I studied Modernism in my last year of university," Marion said as she took another rest on one of Gaudi's benches. She looked down on the plaza where she had rested before and out across the city from a new height. "I still couldn't say for certain what IS or isn't Modernism in literature, art or architecture. The only thing I am sure of is that Gaudi was a Modernist and he thought nature, religion and architecture should be in sympathy with each other, not opposed and each frustrating and confounding the other."
"That is exactly what the Cordoan people believed."
"The people who had architecture like this?"
"The very same. If they wanted to build a house but a tree was in the way they would build it around the tree."
"I like them. I like Antoni Gaudi, too. This park is so very much the soul of him. The Sagrada Família was his magnum opus, but this is where his spirit belongs, with stone columns that look like trees and houses that look like they were grown not built, paths that go up hill and double back onto the same view but higher and higher as if they would end with the sky."
Kristoph smiled at her enthusiasm, but in her excitement she had forgotten they were meant to be taking it easy. She ran out of breath again and had to sit down in an ivy covered niche beside the path. The bench there was carved out of the same stone as the artificial cave around it and was delightfully devoid of straight lines or angles.
Marion rested in the shade until she was ready to walk again. The paths were becoming busy with tourists by now and the way narrowed by the number of hawkers with their linen cloths on the floor selling trinkets like cheap, colourful earrings or fans made of plastic and paper, souvenir cigarette lighters and all sorts of generic things that could be found all the way from Park Güell to Bondi Beach and back to Blackpool Promenade.
She didn't buy any of these cheap and cheerful wares. The only items that interested her were the fans, and she knew there would be better quality ones in the city made of screen printed silk and mother of pearl.
But it was interesting to see the colourful displays as she walked past as well as the sales patter some of the bolder hawkers had for likely customers.
"I rather think the Catalonian Trading Standards ought to check some of these," Kristoph remarked. "I suspect there might be some counterfeit goods on sale."
Marion had thought the same, but she was enjoying the ambience of the busy paths with their ground level market too much to complain.
There was music, too. Buskers of all sorts entertained, from a Catalonian country and western combo through numerous Spanish guitar players, solo and in small groups, to a rock and roll band and a man singing opera with a recording of an orchestra for accompaniment. All of these sounds came and went as they explored the beautiful park and admired the view across a city that was one of the gems of planet Earth.
They visited the Gaudi museum, of course. They both knew a great deal about 'God's Architect' already, but the artefacts and memorabilia of his life refreshed the memory.
"I had forgotten how sad his death was," Marion commented as they left the museum and accustomed themselves to the warmth and sunlight of outdoors again. "Hit by a tram, and left lying there because people thought he was just a tramp. Even if he WAS 'just' that, he was still a Human being. It is a shame there wasn't one person with an ounce of decency in them to render assistance."
"A blot on the character of the Catalan people," Kristoph agreed. "But there is nothing to be gained by sadness on this lovely day amidst the fruits of his genius. I believe there is a café somewhere near here. Time for refreshments."
The café was more a string of tables and chairs under parasols set out along the way, but that was a perfect way to spend the lunch hour - shaded from the hottest sun and cooled by a fragrant mountain breeze. There was no cooked food, but there were delicious sandwiches with cooled fruit juice, followed by ice cream desserts for park visitors who felt the need for rest and refreshment along the way.
For Marion, though, the feeling of being rested was not quite true. She flagged visibly in the afternoon heat. Kristoph frequently made her rest in the shade of the niches and colonnades that were to be found all over the park.
"I think we ought to head down to the entrance before tea time," Kristoph said. "I don't want you to be overtired."
"I think you're right," Marion agreed. "But it is a pity. Sunset would be so glorious from the Turó del Calvari. I checked the times. The sun will be setting about five minutes before the gates close."
"Then how do you expect to get down to the gate in five minutes from the highest point in the park?" Kristoph asked her.
"Oh!"
"If it's what you want, my dear, I will arrange it," Kristoph said. He would do much more than that for her if she asked, but he wanted to get back down the hill by teatime.
Taking it slowly and enjoying the music and a pathside puppet show and all manner of al fresco entertainment they reached the bottom of the salamander steps by four o'clock. They found seats outside the small restaurant beneath the grand plaza. They ate traditional seafood paella and a delicious local dessert called crema catalane with iced coffee. They lingered over the meal, enjoying the strains of music coming from within the colonnade that was somewhere between a pertrified forest and a cathedral. The acoustics there were perfect for the really professional buskers.
Marion would happily have stayed there much longer but Kristoph insisted that she needed a rest. In truth, she was tired and footsore from the day, and not long after she laid down on the sofa in the console room she fell asleep.
When she woke, she felt warm fresh air on her face. She sat up and looked towards the door. Kristoph was standing there, silhouetted against a setting sun. She went to his side and found that the TARDIS was no longer parked in the street. Instead it had resolved into a doorway at the base of the monument called Turó del Calvari – Catalan for Calvary Hill. From the outside, with the door closed, there was another of those cosy niches that they had rested in all day.
She didn't want to rest now. She wanted to climb the steps that spiralled up the cylinder shaped artificial hill. At the top, three crosses, one distinctly larger than the other two, stood in deep silhouette against the orange-red sky.
Kristoph came with her and admired the view on every side. The sun was setting behind the hills that bounded the city west of Parc Güell, making the demarcation between the shadowed hills and the glowing sunset sky so distinct. Overhead the sky darkened to deep blue and then black. Between them and the Mediterranean was a city lit up with its night life as native Catalonians and visitors alike enjoyed clubs and theatres and all that a city at night had to offer.
After a while they came down the steps again and sat in the alcove created by the TARDIS. It wasn't cold and Marion was happy to sit there with her head on Kristoph's shoulder, watching the city below from that safe vantage point. Occasionally there would be a blue flash of emergency vehicles on the roads, an aeroplane crossing the velvet sky as it headed towards El Prat airport or boats, big or small, coming into the harbour.
She fell asleep watching the city from high above. Kristoph sat by her side, knowing that the TARDIS was emitting a field that would keep them warm no matter how much the night time temperature dropped and also shield them from discovery should any security guard come this far up into the closed park.
He gently shook her awake as the sky began to lighten. She sat up and watched a Mediterranean sunrise in all of its glory. She didn't feel stiff from sitting on a stone bench all night – because of course she hadn't. It had been created by the TARDIS out of its own mutable material. She didn't feel tired or lethargic. A sunrise like that, with the scents of early summer flowers and the singing of birds in the trees below in the park was enough to make her feel as bright and fresh as the new day itself.
"It's three hours, still, until the park gates open," Kristoph said as the sun's first morning rays bathed the Turó del Calvari. "How about we go into the city for a little breakfast."
"Somewhere near the Sagrada Famalia," Marion answered. "I want to see that before we leave Barcelona."
"So do I," Kristoph agreed. "And later, I think we'll jump forward in time and see it when it is finally completed in 2024."