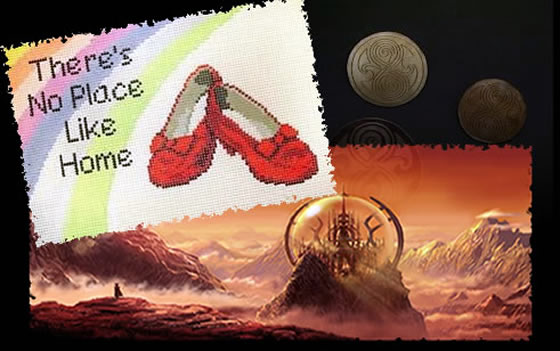 It was midsummer on Gallifrey. Marion woke early in the master bedroom to the sun shining strongly through the window drapes and casting interesting patterns on the walls and ceiling. She looked at the familiar bedroom that she had shared with Kristoph since she became his wife. She sighed happily. It had been an exciting trip, visiting all of those wonderful planets, but she was very glad to be home.
And it really felt like home. She had not seen the house since the night of the fire, when snow lay on the ground and they evacuated in the dead of night. She was afraid it might feel wrong when they returned, as if too much had changed.
But it didn't. Everything was fresh and clean, of course. Mount Lœng House has been thoroughly gone over in the absence of the master and mistress: thousand year old tapestries and plaster mouldings had been lovingly restored from the smoke damage that had occurred, chandeliers were gleaming, windows sparkling, carpets as good as the day they were made, paintings professionally cleaned so that their original colours were vibrant.
But everything was as it ought to be, in the places she remembered them, right down to the pair of jade-eyed foe-dogs from imperial China that stood either side of Kristoph's study door, warding off evil, or possibly the intrusion of the Premier Cardinal when he came seeking the Lord High President's decision on matters of importance.
The most startling change, of course, was the new east wing, replacing the servant's quarters that had been utterly destroyed by the fire. The front wall where it adjoined the main house had been built with the same cream coloured stone that had been quarried countless years ago to build Mount Lœng House. The windows matched those of the ancestral home of the de Lœngbærrow family. Any unwitting visitor to the demesne would think it had always stood that way.
But that was merely a façade. The wing was ultra modern, built partly from the same stone, but mostly from glass made of sands collected from Demos, the oven hot and uninhabitable inner planet of the Gallifreyan system. Black sand made the almost opaque glass that formed the roof and walls of the new wing. Ochre, mulberry, saffron and deep plum coloured sands made various glasses, not merely stained on the surface, but coloured all the way through. In the south corridor, wide enough to earn the old title of 'long gallery' these multi-hued glasses formed abstract patterns in the narrow but floor length windows placed between pillars of cool, cream wall. The sun shone through them almost all day, from sunrise to sunset, casting those same patterns on the inner walls that had been painted a pale coral colour and needed no other decoration than that.
The idea was Marion's. She had suggested the idea of the gallery of light inspired by the Liverpool Metropolitan Cathedral, known as the Cathedral of Light for the effects of the sun through its tall stained glass windows.
This bright and airy cloister was cooled by vents that opened at the top of each of the mosaic windows. It connected all of the rooms in the servant's quarters with the main house, and to each other. At the southern-most end, Seogham and his wife and child had their apartment of drawing room, bedroom, nursery and their own bathroom and kitchen. Up a flight of stairs lit by another mosaic window on the landing, Mistress Callitha, the housekeeper, had a similar arrangement as the senior member of the female staff. Caolin and Rosanda, of course, still lived in the butler's rooms between the kitchen and the main part of the house, bridging the gap between servants and Lord of the demesne.
The other servants, mostly unmarried, had their new rooms on the two floors, spacious, airy and comfortable. One of the double rooms was occupied by the junior footman, Eoghan Dyer, and his brother, Sheeran, who was waiting for the new term at the civil service college to begin. A similar arrangement existed on the floor above for one of the housemaids who was financially responsible for her younger sister until her education was finished.
On the ground floor, the footman's room where the male servants gathered when their work was done was one of the larger rooms. Above, the female servants had a room where they sat in quiet leisure pursuits. These divisions were not rigidly enforced, of course. Any servant was free to meet with another of the opposite gender. But the games of chance and other activities of footmen and bootboys, chauffeurs and the like were noisier than the needlework and quiet crafts the women pursued. They welcomed the demarcation.
Marion had looked around the new wing and was pleased to see that it suited the servants of the house well. All of them had been settled contentedly for a month, now, and only waiting the return of the master and mistress of the house.
That return had been a triumphal one. Marion remembered the day she and Kristoph returned to Mount Lœng House after their honeymoon. That had been deliberately low key. Only Caolin and Mistress Callitha had been there to greet them. Marion would have been mortified to be greeted by the full household.
But by now she was fully confident of her position as mistress of Mount Lœng House. When the Presidential car arrived at last she was not at all daunted by the sight of the entire outdoor and indoor staff lined up on the steps to greet them with a cheer. Marion accepted the bouquet of flowers from Rosanda happily and invited her to join her for tea in the White drawing room.
Tea in her own drawing room was the thing Marion had looked forward to most. She felt truly as if she was back home when she sat there and Caolin brought her favourite tea and a plate of delicious biscuits on a silver tray.
"I took stocks of tea with me, of course," she told Rosanda. "But, even so, it feels good to be home, drinking from my own tea service."
She told her friend of some of the difficulties she had experienced just getting a cup of tea, including that surprising time on Amaranth Plesaest when an ordinary woman's kindness had touched her so deeply. She talked about all of her experiences on her long trip away, and on reflection it all sounded so very exciting, but in all the descriptions of her adventures she emphasised again and again how glad she was to be home.
"This is the longest I have been away from Gallifrey since I married Kristoph," she pointed out when Rosanda expressed surprise at her sentiment.
"Yes, but Gallifrey isn't your home world," Rosanda explained. "I didn't think you felt so strongly about it?"
"Neither did I until I was away from it for so long," Marion admitted. "I really did MISS being here. All those amazing skies with moons as big as planets in the sky, and I just longed for our mustard yellow sky by day and burnt orange by night, to see Pazithi Gallifreya in all of her aspects, from bronze to silver, and the cúl nuts coming into bloom. I'm too late for that. The blooms are over. The earliest nuts are starting to ripen, but there's always next year. I won't miss them again."
"So Gallifrey IS your home world, now?" Rosanda told her with a smile.
"Oh, it has been for a long time," Marion admitted. "But being away really made me realise it. I shall have to visit Earth soon. We're SHORT of tea, and I want to see Li and tell him all about our journey. And, of course, there will always be visits offworld either for pleasure or Kristoph's work, but I will always be glad to get home and sit here in my favourite room and enjoy a nice, quiet cup of tea."
Yes, that had been how she had felt yesterday when they got home, and she still felt that way this morning. She climbed out of bed and put on a silk gown over her nightdress before she went to the window and pulled open the drapes. It was still very early. The servants were up and about at their duties, but opening the drapes in the master bedroom wasn't one of them for another hour, yet. Hot coffee would be brought at the same time. The smell of it would wake Kristoph. They would drink a cup together before showering and dressing and going to breakfast.
Then the day would begin in earnest. Kristoph was expecting the Premier Cardinal with a full list of matters requiring his immediate attention even though the High Council was not in session at this time of year. She was expecting Lady Lily and Thedera de Más??nt?n for lunch and an afternoon catching up on social matters. She probably wouldn't see her husband again until dinner even though they were in the same house. That was the way it was and the way it ought to be, after all.
The coffee hadn't been brought, but Kristoph stirred in the bed and stretched lazily. He murmured something about the sun and Marion turned to look at him.
"I'm sorry, is it dazzling you?" she asked. "I just wanted to look out of the window."
"Being dazzled by the Gallifreyan sun first thing in the morning is a joy I have missed," he admitted as he rose from the bed and pulled a robe over his body. He had brought several pairs of pyjamas and a couple of nightshirts on their trip, but now he was back on the southern plain he slept naked according to the custom of that region. He covered himself, though, before he reached to open the window.
The smell of early roses in the garden below drifted up, and the sound of a bird of prey screeching as it wheeled across the sky above the house. A brightly coloured flutterwing fluttered up as high as the window before gliding back down to the garden again on its outstretched wings.
Kristoph put his arms around Marion's shoulders and kissed her neck. She sighed softly and let him pull her even closer.
"The maid will be in soon with the coffee," she pointed out.
"I could tell her to wait another hour," he answered.
"I think I'm ready for my coffee," Marion countered.
"So am I, but I'm not meeting the Premier Cardinal until eleven. I shall instruct Caolin to delay breakfast and we can have a lie in."
"We haven't had a 'lie in' since Rodan came to live with us."
"That's no longer a problem. Our fosterling has other things on her mind first thing in the morning than waking us up."
He pointed to the meadow. A young figure in a riding habit sat upon her horse and urged him on towards the treeline. She was up early, too, determined not to miss out on a single minute of riding time before breakfast. They both watched the strong gelding, Alexis, jump the fence between the meadow and the rough grassland that stretched for a dozen acres. Few boundaries restricted Rodan now. She would probably do a circumference of the formal gardens and right around the cúl nut plantation before coming back to the paddock. Later, with her riding instructor with her for safety she had planned a cross country ride that took in the ford of the River B?rrow and several other landmarks within the Lœngbærrow demesne. She, too, wouldn't be seen until dinner time when some attention from her personal maid would transform her into a young lady instead of a tomboy on a horse.
The maid knocked and then entered with the coffee. She was a little surprised to find her master and mistress awake, but his Lordship's amorous embrace of his wife was no concern of hers. She left the tray by the bedside and bid them both a good morning.
"The coffee smells good," Kristoph said. "And the bed is still warm."
"Yes," Marion agreed. "It does, and it is."
She slipped off her gown and slid back between the sheets. Kristoph pressed a fragrant cup of morning coffee into her hands and she drank, savouring another beverage that had varied widely in taste, colour and texture among the different cultures she had encountered on their long trip away.
When the coffee was drunk she let Kristoph enfold her in his arms. Her silk nightdress was soon cast away and she surrendered to his passions as she had done so many times in their married life. The sun shining through the open window dazzled her eyes and the screech of that bird of prey in the sky served as a counterpoint to her own cries of pleasure as her husband reminded her of something she had known from her wedding night – that a woman who has known the love-making of a Time Lord has truly been loved.
Yes, she thought as she lay in the sweet, warm aftermath of their passion. There really was no place like home.